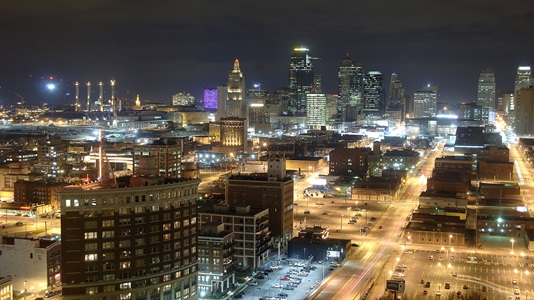 News
Kansas City makes an impression nationally with its support for U.S. at World Cup

The first inclination that perhaps Kansas City's support for the U.S. Women's soccer team had caught the nation's attention came in the form of an Alex Morgan tweet

Family-Friendly PNC Plaza Opens in Power & Light District

Family Friendly PNC Plaza Opens and creates a brand new feel for downtown KC

Not so strange: With Tech N9ne, first StrangeFest concert in downtown KC is a success

The most peculiar element of StrangeFest, the music festival held in Downtown Kansas City Saturday, was that a similar function hadn't previously transpired

Kansas City Power & Light District partners with KCPS foundation

The entertainment district's new five-year partnership with the Kansas City Public Schools Education comes with a variety of perks.

Inside Guy Fieri's Crazy, Non-Stop Life on the Road

Guy Fieri

pulls up to his latest restaurant—Guy Fieri's Dive & Taco Joint—in Kansas City, Mo., not in the 1968 red Camaro convertible that's become associated with his Food Network show

Diners, Drive-Ins and Dives

, but in a late-model silver Chevy Tahoe.

Cordish plans $25M affordable housing project at Midland

"We hear every day that Kansas Citians want more options when it comes to downtown living. More price points, and different sizes and footprints."

Soon, you'll be able to go to Power and Light District to throw axes at Blade and Timber

Kansas City-based Blade & Timber - an interactive axe throwing experience - is coming to the Power & Light District.

Photos: See where the 'Queer Eye' Fab Five really lived while shooting Season 3 in KC

Last summer, Netflix announced that Season 3 of the hit show "Queer Eye" would be filmed in Kansas City.