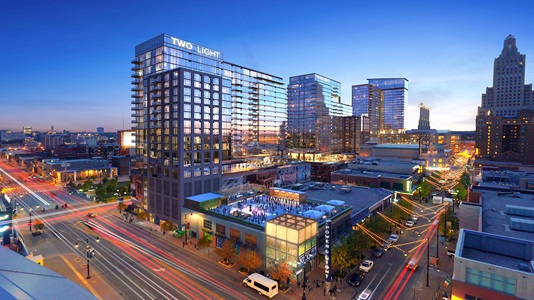 Two Light Construction Will Wrap Up Early
Two Light, the second of four high-rise apartment towers that The Cordish Cos. plans to develop within its downtown Kansas City Power & Light District, will be completed a month earlier than anticipated, allowing residents to move in as early as May 4.
When it opens, the 24-story Two Light will add more than 400 residents at the corner of Grand Boulevard and Truman Road. The 25-story One Light opened at 13th and Walnut streets in November 2015.
"We can't wait for Kansas City to experience Two Light," Nick Benjamin, executive director of the Kansas City Power & Light District and director of multifamily development for The Cordish Cos., said in a release. "Like its sister property, One Light, Two Light will raise the bar for multifamily living in the Midwest and will be a great milestone in the continued growth and revitalization of downtown Kansas City."
Barbara Allen, construction project executive for Cordish, credited Two Light's general contractor, JE Dunn Construction, and its subcontracting team with expediting the project.
The exterior facade and many units already are near completion in the $120 million, 296-unit tower, originally scheduled to open in June 2018.
"The anticipation of our residents and the downtown community overall has been exhilarating," Marnie Sauls, director of residential management for Cordish, said in a release. "For residents who have already signed leases, we send them pictures and video of the progress of their new home. They get to see the walls going up, the incredible views as their balconies are installed, the finishes being added and more. There is nothing greater than seeing and hearing our residents' excitement for move-in day, and now that we get to tell them they will be able to move in earlier, we couldn't be more excited."
The 24-story tower includes a seven-story parking garage with 436 spaces, plus 17 floors of apartment homes. Additionally, the first floor will feature 15,000 square feet of office and 3,100 square feet of retail occupied by Power Life Yoga Barre Fitness. Two Light also will provide more than 16,000 square feet of amenity spaces.