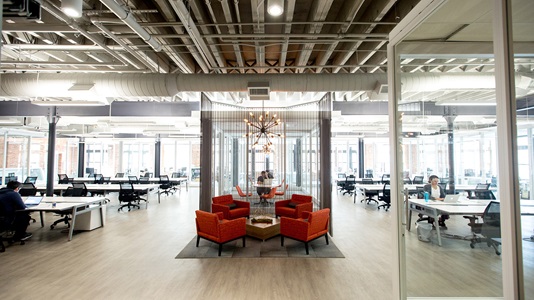 New Collaborative Space Coming to Downtown Kansas City
The Cordish Cos. is expected to bring the 15,000-square-foot project to fruition at Two Light Luxury Apartments in the vibrant Power & Light District by late 2018
The Cordish Cos. is planning a two-level collaborative workspace in downtown Kansas City, Mo. Called Spark KC, the coworking space will encompass 15,000 square feet and is scheduled to open by late 2018. It will be part of the first live-work environment coming to the Power & Light District.
"With the rapid growth of the downtown population, the demand for downtown office space is higher than it has been in many years, and a large segment of that demand is looking for a co-working environment. Spark KC will be an ideal collaborative workspace for the Kansas City community, and we are very excited that it will be the pioneer for live-work opportunities in this market," said Nick Benjamin, vice president of development for The Cordish Cos. & executive director of the Kansas City Power & Light District, in a prepared statement.
This is not the only project the company has in the works. In December, the firm also broke ground on the $260 million Phase II of Ballpark Village, a 700,000-square-foot mixed-use development in downtown St. Louis.
FIRST-CLASS AMENITIES

Spark KC will be located on the northeast corner of Truman Road and Walnut Street and will represent the office component within the Two Light Luxury Apartments, a 24-story residential tower scheduled for opening in May 2018. The high-rise is part of a four-building project which The Cordish Cos. is developing within the nine-block perimeter of the Power & Light District. The first tower, One Light—the second-tallest high-rise to be built in the downtown area in the last 50 years—was completed in 2015.
Planned amenities at Spark KC include:
Fully-wired apartments
AV-equipped conference and meeting rooms
Several large event spaces with catering services
Lounge spaces with media wall
Shared kitchen
Gourmet coffee and craft beer bar
High-speed internet
On-site parking
Dedicated community manager to facilitate events
Online reservation system
Concierge service
Indoor bike storage facility
In addition, the residents of Two Light will enjoy an outdoor and indoor pool and spa retreat with a bar and party room, a building sommelier and a 24-hour lobby attendant. Spark KC will join Power Life Yoga in the building, both of them filling up the 16,000 square feet of retail and office space available within the high-rise building.
BUILDING LIVE-PLAY-WORK COMMUNITIES IN DOWNTOWN KC

The Power & Light District is a type of mixed-use development that has already become very popular in major cities across the country except for a few, including Kansas City. In fact, the city has been rather lagging in terms of new office developments, which has made several companies look for space in the suburbs. The city's downtown features an aging stock office high-rises completed in the 1960s and 1970s. While some of these assets have been renovated, they still lack the type of amenities and perks that appeal to the Millennials.
"The trend of how people work and live has vastly shifted in the past decade. There is now more fluidity between the personal and the professional, and having access to spaces that allow for collaboration outside of the traditional 9 to 5 workday is a must for today's workforce. Kansas City is experiencing rapid growth to its downtown population, which is increasing the demand for downtown office space, specifically within a co-working environment," said Shervonne Cherry, director of community and partnerships at Spark Baltimore.
Questions have been raised regarding whether the city's downtown might lose its business character and turn into yet another residential neighborhood if companies continue to avoid the area. Nevertheless, with projects such as Spark KC, developers are going against this trend, hoping to encourage start-ups and Millennials to return to the urban core. And the city officials are striving to revitalize the downtown area by attracting both residents and businesses through various urban services improvement projects such as the streetcar system, which opened for service in May 2016.
"Having a hybrid of residential, workspaces, dining and entertainment in the same neighborhood attracts a diverse workforce of growing companies and entrepreneurs to the area from all over the country," added Cherry.
The new live-work community around One Light and Two Light targets professionals earning higher wages, since rents at One Light range between $1,000 and $3,000, according to Yardi Matrix data. Nevertheless, Spark representatives hope to replicate here the success they have achieved with a similar project in Baltimore, where they managed to attract more than 100 companies in 18 months.