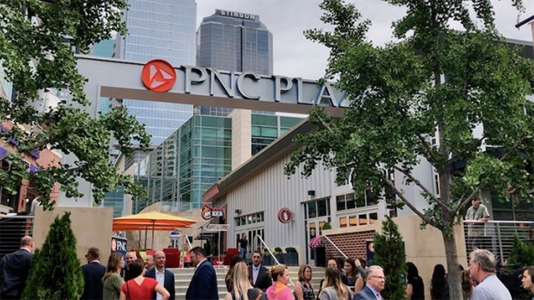 Family-Friendly PNC Plaza Opens in Power & Light District
PNC Bank is partnering with the Power & Light District to rebrand an outdoor space in the downtown entertainment area "PNC Plaza" and plans to make it a hub for family-friendly activities.
The plaza at the base of the H&R Block tower was formerly called Elements Courtyard because of its fountain and fire feature. It's located near several restaurants including Insomnia Cookies, The Mixx, Drunken Fish and the Whopper Bar.
Designed to be a community gathering space, PNC Plaza will hold family-friendly events and programs, according to a press release, and also be a place where residents and visitors can relax.
For Pittsburgh-based PNC, it's the latest example of the bank's push to raise its profile in Kansas City. The bank began corporate operations here in January 2017 and opened a retail branch or "solution center" at 19th and Grand in April.
PNC, which operates in 20 states, also has a solution center in Overland Park.
Its partnership with the Power & Light District on rebranding the plaza was described as a five-year sponsorship.
"We believe very strongly in the correlation between access to entertainment and better communities," Dale Klose, PNC regional vice president, said in a statement.
"Bringing this space to the Power & Light District will allow our neighborhoods and visitors to come together, relax and enjoy our beautiful city."
Klose said PNC is particularly committed to promoting early childhood education and family activities. The bank and Power & Light District are expected to announce upcoming events, many family-oriented, later this year.
PNC also is planning what's called KC Fall Fest, a new family festival, in the Power & Light District this fall.
The three entrances to the PNC Plaza will feature gateway arches emblazoned with the area's name. The event announcing the new endeavor Thursday was held beneath the first of the arches to be built.
Nick Benjamin, executive director of the KC Power & Light District, described the new space as a "place for residents and visitors to relax and enjoy the breathtaking downtown Kansas City skyline."
A large mural also is planned for the PNC Plaza and ArtsKC has been asked to commission local artists for the project. More details are expected to be announced later this summer.