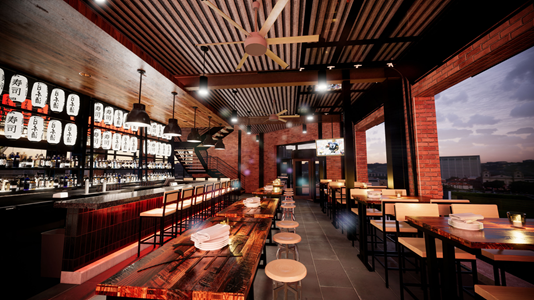 New Tenant Announcement: Blue Sushi Sake Grill
The Kansas City Power & Light District announced today that Blue Sushi Sake Grill will open a new location at the corner of 14th & Walnut streets in the heart of the district later this year.
The 5,247-square-foot space located at 101 E. 14th Street will be completely transformed to include a mezzanine and revamped patio area. The vibrant dining area will seat 74 guests and the lounge area will have room for up to 58 guests.
"We are thrilled to be bringing Blue Sushi to the Power & Light District," said Nick Hogan, CEO of Flagship Restaurant Group. "After opening our location in Westwood, Kansas, in 2016, we already very much feel like a part of the Kansas City community and cannot wait to expand into the downtown area."
Blue Sushi Sake Grill is part of the Omaha-based Flagship Restaurant Group, which owns and operates more than 16 Blue Sushi locations throughout the country. Blue Sushi Sake Grill transforms the sushi experience by merging responsibly sourced seafood with creative ingredients and bold flavors.At every Blue Sushi location, the restaurant's menus are fully transparent and include sourcing details about every menu item as a part of its "Conscious Earth" program that educates diners about the quality of the food they serve. Blue Sushi Sake Grill is also the largest sushi restaurant partner of the prestigious Monterey Bay Aquarium Seafood Watch.
The menu offers a diverse range of traditional and creative maki, sashimi and nigiri. Fan favorites include the Coconut Crab Soup, River Rock Beef and the brand's signature Tuna Tower. Each of the happy hour, lunch and dinner menus includes a multitude of gluten-free and vegan items.
"Blue Sushi is a premiere operator, and they will enhance what is already an amazing lineup of dining options in the Power & Light District," said John Moncke, president of Power & Light District. "Their menu is outstanding. Together we are making several upgrades to the space, and it will be an attractive dining experience for residents and visitors alike."
Blue Sushi Sake Grill will open to the public later this year. To learn more visit https://bluesushisakegrill.com/.