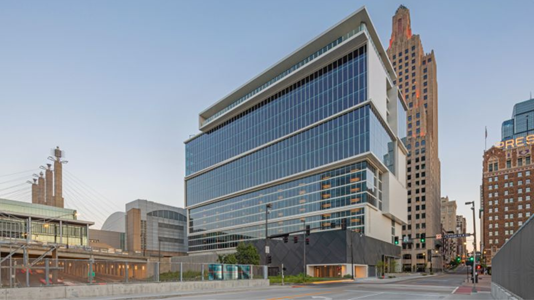 Blue Cross and Blue Shield is moving downtown!
KANSAS CITY, MO. (September 16, 2022)—Blue Cross and Blue Shield of Kansas City (Blue KC) is pleased to announce they have signed a contract to lease the building at 1400 Baltimore Ave. for their future headquarters. Blue KC has been committed to the Kansas City community since 1938 and the new location will allow them to continue their work from the heart of Kansas City for decades to come.
Over the last several years, Blue KC had been exploring alternatives to meet collaboration needs, advancements in technology and the changing workforce. Options included major renovations to the current headquarters, relocation to an existing space and a new building.
After careful consideration of all factors, including cost, and the serendipitous availability of 1400 Baltimore, the company knew they had found their new home.
"We have been a part of the Kansas City community for almost 85 years and are dedicated to being here for years to come. This move ensures we are best positioned to support our customers and members now and well into the future," said Blue KC President and CEO, Erin Stucky. "We need a workplace that will evolve with us as we drive change to advance affordable access to healthcare and improve the health of our members. Our new location at 1400 Baltimore will enable us to do that."
The new location offers Blue KC the space to consolidate all on-site employees into one location, covered parking for all employees and guests, the opportunity to customize floorplans and outdoor spaces on every floor. Other amenities will include state-of-the-art technological advancements, an improved fitness center, access to onsite dining as well as a host of restaurants within walking distance.
"Blue KC has been a part of our community for generations, and I appreciate the company's commitment to downtown Kansas City. I look forward to their continued growth in the heart of our region," said Kansas City Mayor Quinton Lucas. "I'm grateful to Blue KC for investing in our vibrant downtown, bringing hundreds to our restaurants and shops each day, and providing infrastructure support for events and festivals in the downtown loop. It's partnerships like this that continue to make Kansas City a great place to live."