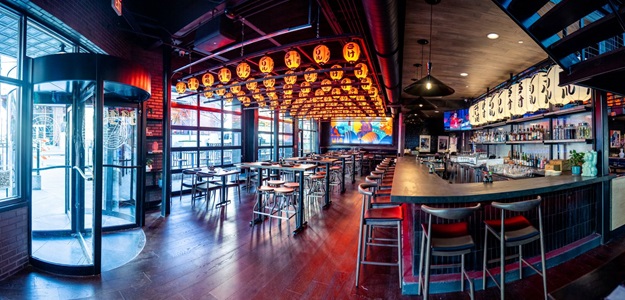 Blue Sushi Sake Grill Now Open in Power & Light District
KANSAS CITY, MO. (February 2, 2023)— Blue Sushi Sake Grill is now open in the Power & Light District!
The Omaha-based company spent about six months transforming the former Bar Louie space at 101 E. 14th St. Bar Louie closed in early 2020. It now has an upstairs dining area overlooking the district with accordion windows that will open during nicer weather for a "patio feel." The mezzanine also has some views of the first floor dining room.
Blue Sushi Sake Grill hosted a pre-opening event Thursday in the Power & Light District. In addition to sushi, the restaurant also has such items as mango crab Rangoons, calamari, coconut crab soup, edamame, poke and lettuce wraps. It has gluten-free and vegan selections. Various sushi rolls are served on a wooden sailboat platter at Blue Sushi Sake Grill. It offers specialty cocktails, wine, sake and sake flights, draft and bottle beers, and alcohol-free drinks such as the Hibiscus Squeeze with fresh-squeezed lemonade. It also will have lunch and happy hour specials. The meat is an all natural tenderloin served on sizzling rocks with jalapeño ponzu and yuzu kosho.
Blue Sushi now has 20 locations in a dozen states. It opened in Westwood in 2016. "We have a following from our presence with the Kansas location," said Mark Kantaras, director of operations for Flagship Restaurant Group, parent company of Blue Sushi Sake Grill. "We wanted to expand and there was an opportunity so we jumped on it."