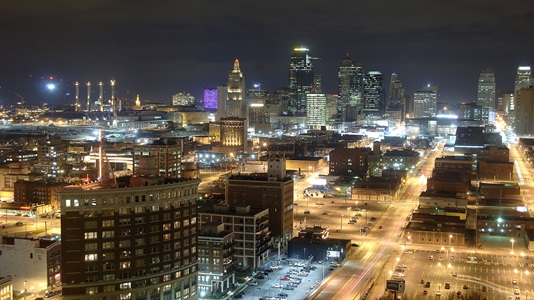 News
Photos: See where the 'Queer Eye' Fab Five really lived while shooting Season 3 in KC

Last summer, Netflix announced that Season 3 of the hit show "Queer Eye" would be filmed in Kansas City.

March Madness brings millions in economic activity to downtown KC

The NCAA Sweet Sixteen came to Kansas City on Friday and local Midwest Regional tournament organizers expected around 60,000 fans to boost the area economy with more than $10 million in spending this weekend.

Two KC-Area Bars Made The Daily Meal's 2018 '150 Best Bars in America'

Two very different local bars made The Daily Meal's 2018 list of the 150 best bars in America.

New Collaborative Space Coming to Downtown Kansas City

The Cordish Cos. is expected to bring the 15,000-square-foot project to fruition at Two Light Luxury Apartments in the vibrant Power & Light District by late 2018

Cordish, Kansas City Power & Light District and Two Light Luxury Apartments Announce New Collaborative Workspace for Downtown Kansas City: Spark KC

Spark KC will become a central hub for local entrepreneurs, creators and innovators to locate and grow their businesses.

Cordish's Spark KC Bringing 'Co-Living' Concept to Two Light Apartments by Late 2018

A new co-living concept planned for the Two Light luxury apartment tower

Two Light Will Include Coworking Space

When the Two Light tower opens in the spring, it will include a two-level coworking space for entrepreneurs.

Welcome to the Neighborhood: America's Sports Stadiums Are Moving Downtown

New sports arenas are altering the financial formula for building these behemoths by surrounding themselves with apartments, bars and office towers — not parking lots.