Post-Season at
KC Live!
The Ultimate Gameday Experience
Every game is a HOME game at KC Live!
KC Live! is your home away from the stadium to watch and cheer on your favorite team!
Reservations are required. Due to COVID-19 restrictions and City guidelines, space and capacities of each venue and the KC Live! Living Room are limited.
RESERVATIONS ARE FULL AT ALL KC LIVE! BLOCK VENUES, INCLUDING THE KC LIVE! LIVING ROOM.
If you have a confirmed reservation at KC Live!, McFadden's, Guy's Dive or PBR Big Sky, you will receive an email prior to Sunday with details on check-in and more.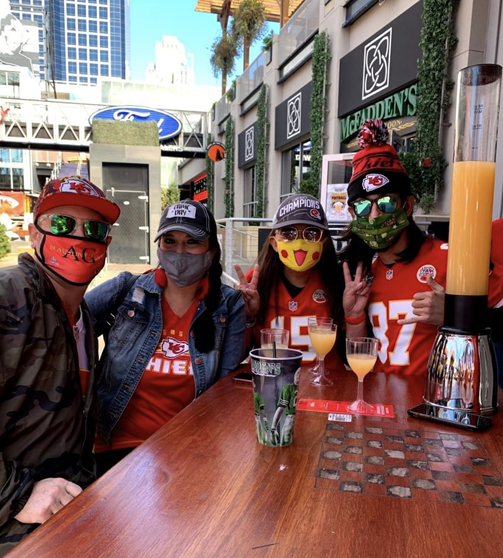 For media inquiries or requests, please submit via email here.
Special thanks to our sponsors: Midwest Ford Dealers, Heartland Coca-Cola and Miller Lite.
Families welcome. 21+ after 9PM
Parking:
Park for just $5 at the KC Live! garage with validation from any Power & Light District venue. Must present parking ticket for validation at time of visit.
*Parking Rate Subject to Change*
Our guests are always our top priority, no matter the circumstances. That's why we've ramped up our sanitation practices and are taking extra precautions to help all guests and staff members stay safe. Learn more about our commitment to safety here.
Kansas City makes an impression nationally with its support for U.S. at World Cup

The first inclination that perhaps Kansas City's support for the U.S. Women's soccer team had caught the nation's attention came in the form of an Alex Morgan tweet

Read More

Family-Friendly PNC Plaza Opens in Power & Light District

Family Friendly PNC Plaza Opens and creates a brand new feel for downtown KC

Read More

Not so strange: With Tech N9ne, first StrangeFest concert in downtown KC is a success

The most peculiar element of StrangeFest, the music festival held in Downtown Kansas City Saturday, was that a similar function hadn't previously transpired

Read More